Keep an Eye on Your Government » Webinar
Apologies. Facebook's outage on 3/13/19 left us unable to broadcast our webinar during its original date and time. The below information reflects the updated event schedule.
Government accountability starts with government transparency. Celebrate Sunshine Week with ACLU activists!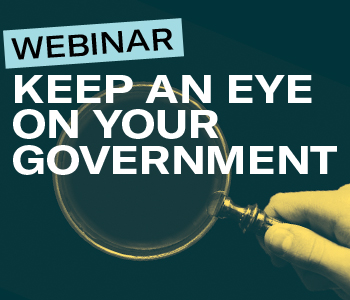 How to Keep an Eye on Your Government
Facebook Live Webinar
Thursday, March 14
Noon
Did you know? You can write a request for information – whether it's budgets, police reports, policies, emails, bail schedules – and in many cases the governmental agency is required by law to hand it over. In fact, information obtained through these public records requests has been key to launching many an ACLU campaign and lawsuit. These types of requests are invaluable tools, so don't let them go unused!
Join our Advocacy Associate Emma Keeshin on Facebook Live on Thursday, March 14 to learn about public records - what they are, how to send them, and what to do if you're not getting a response. You won't want to miss out on this ACLU activist tip.
Join us at facebook.com/ACLUOH for this 12 p.m. webinar via Facebook Live. You don't need a Facebook account to view the webinar, but you do in order to ask us questions in the comments.
To register, please complete the form below.