FOCO Advocacy Day
Registration for this event has closed.
Ohioans deserve justice. Join us to learn how to hone your skills in making this happen!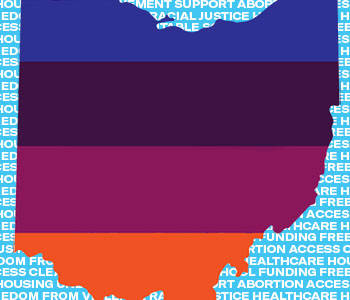 The People's Agenda for Justice
Thursday, April 17, 6 - 7 p.m.
Saturday, April 19, 11 a.m. - 3 p.m.
Zoom Registration Link Will Be Provided
In the past two years, the Ohio Legislature has introduced law after law restricting abortion or reproductive health, with the most recent being the telehealth ban and fetal tissue bill. Meanwhile, our communities are reeling from COVID-19, unemployment, police brutality, Black infant and maternal mortality, and institutional racism throughout every system. We know the extremist-controlled Ohio Legislature isn't working for the people.
Last fall, the reproductive freedom community came together for The People's Hearing, a six-hour livestreamed event that featured Ohioans and community leaders sharing their stories, testimonies, and dreams for our community.
Now, it's time to build those dreams together. Join the ACLU of Ohio, NARAL Pro-Choice Ohio, URGE, Ohio RCRC, Preterm, ROOTT, Ohio Women's Alliance, New Voices for Reproductive Justice, Planned Parenthood, and Women Have Options (WHO) for The People's Agenda for Justice, a two part event highlighting what we know Ohio can and should be for its people. We will come together as a movement for justice, our bodies, our families, and ourselves. We will speak to what we, and all Ohioans, deserve.

Ohioans deserve abortion access.
Ohioans deserve education.
Ohioans deserve healthcare.
Ohioans deserve justice.
Ohioans deserve more.

Join our keynote event on Thursday to hear from leaders in the movement and prepare yourself for a day of action and skillbuilding on Saturday, where professionals in the field will help you build your skills in two of these areas: traditional communications, digital communications, direct action, policy & lobbying, storytelling, and self & community care.
To receive a Zoom registration form, please RSVP below. This is a two-part registration.