ACLU of Ohio Legislative Outreach Training
Join us for an immersive day of learning how to talk to your legislators about repealing the death penalty and reforming the bail system!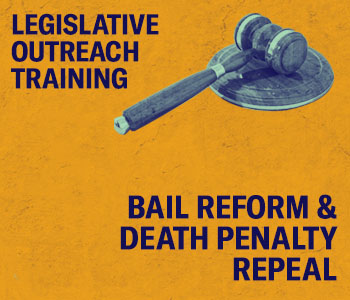 Legislative Outreach Training
Sunday, June 13, 2021
2:00 p.m.
Zoom Registration Link Will Be Provided
Every effective movement is, and has been, centered in the power of the people, people united for change and for justice. Join us as we get trained on how to advocate with our elected officials for two of our largest campaigns: Death Penalty Repeal and Bail Reform. This training will focus on messaging, connecting with others in your region to devise an outreach plan, and working to land legislative meetings. If Ohio is going to abolish the death penalty and enact bail reform, it's going to take all of us.
Ohioans who are directly impacted, volunteer leaders and partners, join us on Sunday, June 13 at 2 p.m. Lunch vouchers will be provided to all participants.
Please note, registration for this event will close on Monday, May 31.
To receive a Zoom registration form, please RSVP below. This is a two-part registration.