Bill of Rights Celebration / Celebración de la Declaración de Derechos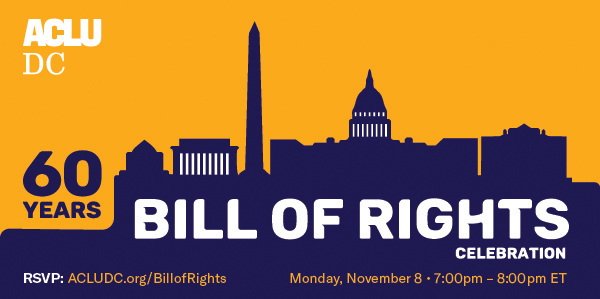 Join the ACLU of the District of Columbia at 7:00 pm EST on Monday, November 8, as we celebrate our 60th anniversary and honor outstanding people in our community who fight to advance civil liberties and rights. This virtual event will honor:
Congresswoman Eleanor Holmes Norton, D.C.'s delegate to the U.S. House of Representatives. A lifelong champion of civil rights and a previous ACLU staff member, Congresswoman Norton is a driving force in the fight for D.C. Statehood, which progressed further than ever this year. We are delighted to honor her with the Arthur B. Spitzer Lifetime Achievement Award.
Samantha Davis and Black Swan Academy, who are fighting to end the school-to-prison pipeline in D.C. Black Swan Academy empowers Black youth in under-served communities through civic leadership and engagement. Samantha and BSA's members are leading voices in the urgent conversation around policing reform in D.C., especially through successful advancements in their Police Free Schools Campaign.
Larry Pearl, whose many years of volunteer service have been crucial to ACLU-DC's legal team. Thanks to Larry's diligent work responding to intake requests, the legal team has greater capacity to serve our community and take on as many cases to our docket as possible.
This event will also feature a special musical performance from The Bengsons, plus remarks from our Executive Director, Monica Hopkins, and Board President, Sam Daughety. Join us as we look back on 60 years of civil rights litigation and advocacy at one of ACLU's key affiliates and share in our hope for the future alongside our honorees, staff, and members.
Open captions and ASL interpretation will be utilized during this event. Live Spanish interpretation is available - please register by November 3 to request interpretation.
This event is free and open to all, but we hope that those who are able will make a gift to support our work. We are thrilled to announce that all gifts made in support of this event will be matched up to $30,000, thanks to two generous donors. After registering, you'll be directed to a donation page.
Bill of Rights Celebration
Monday, November 8, 7 - 8 p.m.
Zoom
Súmese a la Unión Americana de Libertades Civiles (ACLU) del Distrito de Columbia el lunes 8 de noviembre a las 7:00 p. m. hora del Este (EST) para celebrar nuestro 60.º aniversario y rendir homenaje a las personas destacadas de nuestra comunidad que luchan por el progreso de las libertades y los derechos civiles. En este evento virtual se rendirá homenaje a:
La congresista Eleanor Holmes Norton, representante del Distrito de Columbia en la Cámara de Representantes de los Estados Unidos. Campeona de toda la vida en la lucha por los derechos civiles y ex miembro del personal de ACLU, la congresista Norton es una de las impulsoras de la lucha por convertir al Distrito de Columbia en estado, movimiento que avanzó como nunca durante este año. Tenemos el agrado de homenajearla con el Premio a la Trayectoria Arthur B. Spitzer.
Samantha Davis y Black Swan Academy, quienes luchan por poner fin al "túnel" de la escuela a la prisión en el Distrito de Columbia. Black Swan Academy empodera a los jóvenes de raza negra de comunidades necesitadas a través del liderazgo y la participación cívica. Samantha y los miembros de BSA son las voces que lideran la conversación urgente en torno a la reforma de las prácticas policiales en el Distrito de Columbia, en especial, a través de avances exitosos en su campaña "Por una escuela sin policías".
Larry Pearl, cuyos varios años de voluntariado fueron esenciales para el equipo legal de ACLU-DC. Gracias al diligente trabajo de Larry al responder las solicitudes recibidas, el equipo legal tiene mayor capacidad para atender a nuestra comunidad y tomar tantos casos como nuestra agenda nos permita.
Este evento también incluirá la presentación musical de The Bengsons, además de las palabras de nuestra Directora ejecutiva, Monica Hopkins, y el Presidente del Directorio, Sam Daughety. Únase a nosotros en nuestro recorrido por los 60 años de lucha por los derechos civiles y la participación cívica en una de las filiales clave ACLU, y comparta nuestra esperanza por el futuro junto con nuestros homenajeados, personal y miembros.
Habrá subtítulos e interpretación en el lenguaje de señas durante el evento. Habrá interpretación en vivo a español. Regístrese a más tardar el 3 de noviembre para solicitar los servicios de interpretación.
Este evento es gratuito y está abierto a todos; sin embargo, esperamos que quienes estén en condiciones de realizar una donación lo hagan en apoyo a nuestro trabajo. Estamos encantados de anunciar que todas las donaciones realizadas en apoyo a este evento serán igualadas hasta un monto de $30,000, gracias a dos generosos donantes. Después de inscribirse, será direccionado a la página de donaciones.
Celebración de la Declaración de Derechos
Lunes, 8 de noviembre de 2021, 7 - 8
Zoom