Act Now Tell VDOE to Rescind Their Proposed Model Policies
Act Now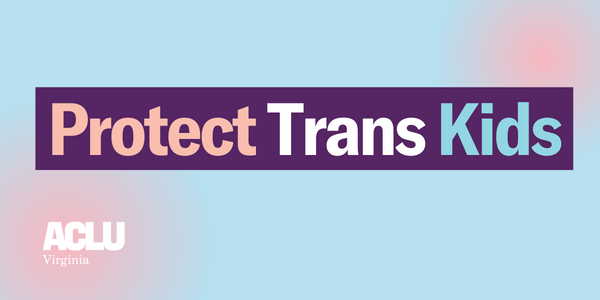 This is really simple. After the Virginia Department of Education (VDOE) introduced proposed policies on the privacy, dignity, and respect for all students and parents in Virginia's public schools – including treatment of transgender and nonbinary students – a record-breaking number of Virginians submitted comments opposing them. It's time for VDOE to hear the voices of Virginians and rescind these harmful policies.
Virginia law gives VDOE authority to develop evidence-based model policies concerning the treatment of transgender students that will provide guidance to school districts on how to avoid discrimination, prevent and respond to bullying, protect students' privacy, and maintain a safe and supportive learning environment. The VDOE issued comprehensive model policies in 2021 that follow both the letter and spirit of the law. VDOE's new proposed policies do none of these things.
Model policies should be evidence-based. The 2021 policies were created with the input of educators, medical experts, parents, students, including transgender students, and community members. The new proposed policies were written without consulting experts or impacted voices, and without referencing the numerous studies and accepted evidence about the need for schools to affirm transgender and nonbinary students.
Model policies should uphold the dignity of students in Virginia. The new policies deny transgender and nonbinary students access to school facilities and sports teams. They require teachers to misgender transgender and nonbinary students unless those students change their name and gender legally, or their parents submit a request on their behalf. And, the policies force teachers to out students to their parents or guardians, even though many transgender and nonbinary kids don't have support at home.
Model policies should create a safe environment for all students to thrive. The stakes are high. If the proposed policies are implemented and school boards adopt them, transgender and nonbinary students could face increased bullying, discrimination, abuse, and even homelessness.
It will be disappointing if VDOE chooses to advance a dangerous political agenda instead of listening to the overwhelming majority of Virginians who want policies that make schools safe and welcoming for transgender and nonbinary students. Tell the Governor and VDOE that advancing these model policies in any form is just plain wrong. Don't let students in the Commonwealth down, act today.
Message Recipients:
Governor Glenn Youngkin
Superintendent Jillian Balow
Assistant Superintendent Elizabeth Schultz