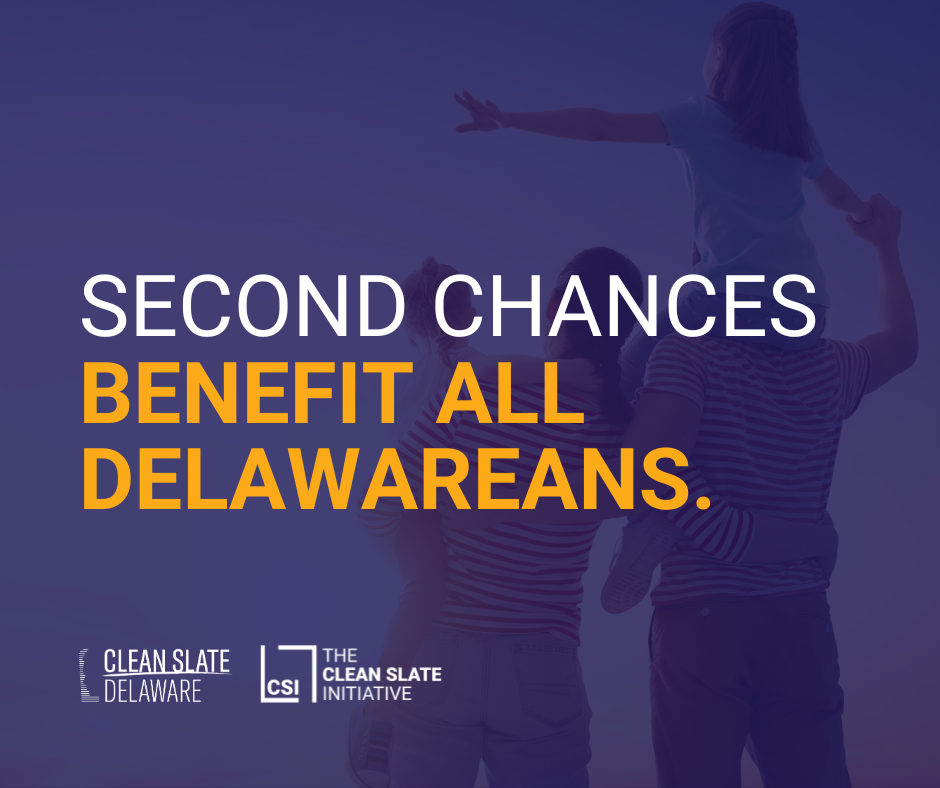 Second Chance Pledge
A record should never be a life sentence to poverty and stigma. For most people living with a record in Delaware, moving beyond that record comes with endless barriers to education, employment, housing, credit, and other opportunities. These roadblocks can be detrimental to a person's ability to be a fully contributing member of society — which often leads to a continuum of incarceration and poverty. Even when people make mistakes, if they have done their time and now live crime-free, they deserve a second chance at freedom and opportunity.
Up to 400,000 people who have a record in Delaware live with limited access to jobs, housing, education, starting a business, or participating fully in social and civic community life. 290,000 of those people are eligible for mandatory expungement. For these individuals, Clean Slate's automated expungement implementation, set to begin in August 2024, can't come soon enough.
That's why we're asking you to commit to working together to ensure that Clean Slate's implementation is as smooth as possible for the people who need that relief as soon as possible.
By taking the Second Chances Pledge, you commit to:
Ensuring a successful implementation in August 2024 with the broadest and most robust interpretation of Delaware's Clean Slate law;
Holding lawmakers and government officials accountable to their Clean Slate commitments;
Expanding access to second chances by ensuring that people living with a Delaware record are aware of eligibility requirements, updated laws, and how they can start the process of clearing eligible records;
Advocating to eliminate systemic barriers that prevent individuals living with a record and those who have received an expungement from successfully gaining education, employment, housing, credit, and other opportunities;
Growing and diversifying Clean Slate partners and supporters statewide; and
Centering and amplifying the voices and stories of impacted individuals and communities within all Clean Slate advocacy.
After you take this pledge, the Clean Slate Delaware campaign partners will be in touch with next steps on how you can take action to support Delaware's implementation.
Giving people access to real second chances promotes healthy families, healthy communities, and public safety. When our loved ones, friends, neighbors and community members are barred from fully participating in society and our economy, we all lose out. We can do better.
Clean Slate policies have strong bi-partisan, business, and community support. Now's the time for you to join the growing momentum moving Clean Slate policies forward throughout Delaware and the country. Thank you for standing up for second chances!