Make Your Public Comment: Stop Sinclair's Stranglehold on Media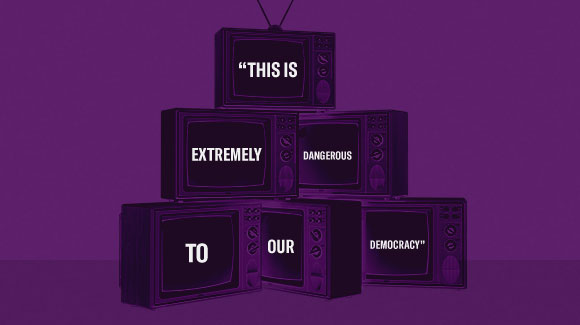 Update 7/20/18: On July 16, FCC Chairman Ajit Pai sent the proposed Sinclair Broadcast Group merger to an administrative judge for review, citing "serious concerns." This kicks off a lengthy process that we hope will kill the deal and stop Sinclair from becoming the largest broadcasting conglomerate in the country. Our pressure is working. If you think viewpoint diversity is important in broadcasting, take the next step and help us also preserve freedom in internet communications: Call your members of Congress to save net neutrality.
---
The Sinclair Broadcast Group has proposed a merger with Tribune Media that is extremely dangerous for our democracy.
If the merger succeeds, it would create the largest TV broadcasting conglomerate in United States history. Sinclair would control some 200 stations broadcasting throughout most of the country – and with that comes full, stranglehold-like control of the information we can access.
Earlier this year, a viral video from Deadspin exposed the way Sinclair repeatedly injects politically-charged segments into local news, which otherwise typically avoid ideological punditry. It shows local broadcasters reading a script imposed on them by a giant, nationwide conglomerate to convey a political message about – ironically – the importance of apolitical coverage and local control.
But this isn't about Sinclair's political ideology. The problem is that Sinclair's attempt to acquire Tribune Media would virtually guarantee limits on the views that local news stations could express.
The First Amendment is supposed to give us the right to free speech and a free press. A news station being forced by the mega-corporation that owns it to parrot the same messages violates these freedoms. There's nothing free about a scripted press – and there's nothing free about a public with no other option for local news.
This proposed deal would also violate the FCC's own policies. Currently, a single company can't reach more than 39 percent of households with a TV, but the Trump administration may let the Sinclair deal go through because of an outdated, widely discredited exception to this 39 percent limit. We can't let that happen – our First Amendment rights depend on striking this merger down.
Leave a public comment telling the FCC to stop this dangerous merger before it happens. They'll read and consider our comments as they make a decision to let the deal go through or not. Let's raise our voices to protect our free speech rights.
NOTE: When you submit a public comment, your comment and the information you submit may be visible as part of the public record.