Voter Suppression Behind Closed Doors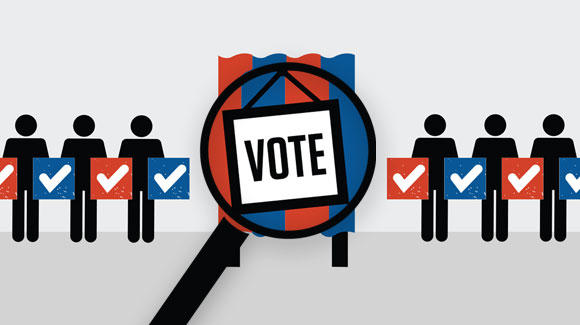 UPDATE (7/19/17): We delivered your signatures to the Election Integrity Commission as part of the #RespectMyVote rally outside the commission's meeting. Want to do more to protect our voting rights? Add your name to ask Congress to pass the Voting Rights Advancement Act.
---
The ACLU legal team filed a lawsuit demanding transparency and accountability from Trump's Election Integrity Commission. The name of the case? ACLU v. Trump.
This commission is a sham. Donald Trump lost the popular vote, and this commission was established to sell the lie that he didn't. The end game is to justify laws that will make voting harder for people, most likely minority and lower-income people. And the commission wants to do this all behind closed doors. That's not only bad for our democracy, it's against the law.
We're urging a district court to force the commission to comply with the Federal Advisory Committee Act and ensure all meetings are open to the public and written records are available for public inspection.
Significantly, the law requires that the commission adopt appropriate measures to prevent the president from influencing its work. This is a crucial check on a backdoor operation that's more concerned with the political motivations of the White House than upholding our constitutional voting rights.
This commission has already failed on transparency and accountability. After holding their first meeting meeting behind closed doors and without any public notice, commission vice chair Kris Kobach, the king of voter suppression, requested all 50 states hand over the personal information of EVERY VOTER in the country – that includes your name, address, and last four digits of social security numbers.
There is every indication that this commission will attempt to enact unnecessary restrictions on voting. Kobach will use these records to make baseless claims of voter fraud in order to restrict our voting rights.
Add your name now to tell Trump, Kobach, and this sham commission that we will fight every effort to disenfranchise millions of voters.