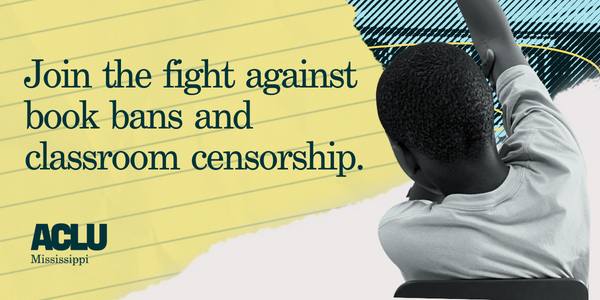 Defend Every Mississippi Students' Right to Read and Learn
Right now, in Mississippi classrooms and libraries, there's a coordinated attack on our students' right to read and learn.
The attack on students' rights is especially disgraceful because Mississippi continuously ranks low among states for academic achievement. Instead of empowering teachers and providing adequate resources, politicians and school boards are making moves to ban books and erase history.
This summer, the Madison County School Board placed over 20 books – nearly 80% of which are by authors of color or have LGBTQ content—in a special category called "restricted circulation," requiring permission from a parent or guardian to permit the student to check the book out.
In the City of Ridgeland, Mayor Gene McGee threatened to block funding to the public library until staff purged its collection of books with LGBTQ+ themes, stories, and identities. The ACLU of Mississippi intervened by sending a letter to the Board of Aldermen, and the library received its funding.
Restricting access to books in school libraries—places that are central to our abilities to explore ideas, encounter new perspectives, and learn to think for ourselves – is a misguided attempt to suppress students' rights.
At the same time, Mississippi became one of 10 states to pass a classroom censorship bill restricting discussions about race and gender in schools. When lawmakers passed Senate Bill 2113 in March, they implanted a growing sense of confusion and fear in teachers, who could risk losing their teacher's license or school funding by having truthful conversations with students.
To be clear: Senate Bill 2113 discourages students from civically engaging within their communities, just as they are learning what it means to live in our democracy.
All students have the right to read and learn about diverse topics and viewpoints – including their own identity – inside and outside the classroom.
While our teams push exhaustively at the State Capitol, in school board meetings, and in town halls, public support will also make a huge difference in the fight.
That's why we're asking you to join our pledge today. By adding your name, you are telling elected officials that you oppose any efforts that would criminalize or censor books and education about race and gender – and that you support students, educators, and everyone's fundamental right to learn.
Join us in this critical fight for free speech and equitable education. Take our pledge today.