YES on Amendment 2 to Restore the Right to Unanimous Juries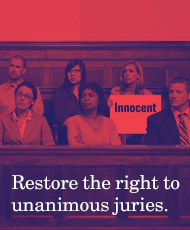 Louisiana is the only state where someone can be sentenced to life without parole without a unanimous decision of a jury.
Louisiana requires only 10 of 12 jurors to agree on guilt in felony cases, which means that even if two members of a jury are convinced of your innocence, you can still be convicted and put behind bars for life.
This is unacceptable and on November 6 you can help change it by voting YES on Amendment 2, the Louisiana Unanimous Jury Verdict for Felony Trials Amendment.
One of the fundamental pillars of our legal system is that you can't be denied your freedom without proof that demonstrates your guilt beyond a reasonable doubt. For more than 100 years Louisiana has denied defendants that fundamental right — with disastrous consequences.
We need you in this fight. Add your name to help stop unjust convictions and say you're voting YES on Amendment 2 this November.