Stop Sending Weapons of War to Our Communities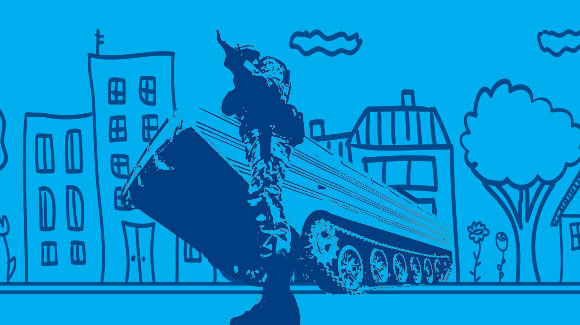 President Trump just put thousands of military-grade weapons back into the hands of police departments across our country.
In rescinding an Obama-era executive order, Trump removed restrictions and oversight of the weapons of war the federal government gives to local law enforcement. We're talking about bayonets, grenade launchers, drones, explosives, and mine-resistant, ambush-protected vehicles, among other things.
These are the same kinds of weapons our troops use in battle in Iraq and Afghanistan. Now local police departments can once again use them on the streets of cities and towns throughout America, with little oversight or accountability.
Trump's action removed a requirement for communication among the various federal agencies supplying military weapons to local police. This means the Defense Department could provide militarized weapons to a police department that's under Justice Department investigation for excessive use of force or other misconduct.
Additionally, Trump's executive order eliminated the prerequisite that city councils approve the weapons of war coming to their towns from the federal government.
The majority of Americans and leaders across the political spectrum have been clear: we do not want weapons of war in our communities.
We know that militarized policing is not effective. It doesn't deescalate violent situations, reduce police bias, or improve police-community relations. In fact, this approach to law enforcement often has exactly the opposite effect.
This is out of control. But our representatives in Congress can take a stand. Tell Congress to support the Stop Militarizing Law Enforcement Act today.