Victory! Demand a special prosecutor on Russia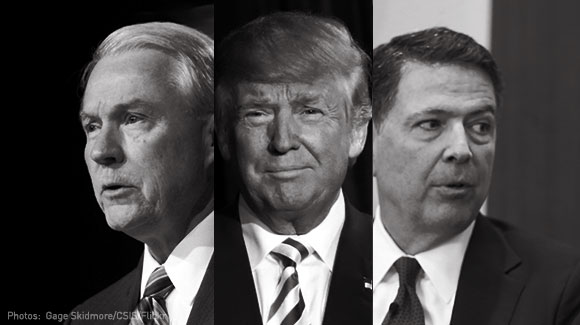 Update (5/17/17): Robert S. Mueller III has been appointed as a special prosecutor to investigate connections between the Trump campaign and Russian interference in the 2016 election.
Now we need to call on Congress for a Select Committee so that this investigation can happen with public transparency.
---
A foreign government may have interfered in our democracy, and our attorney general may have committed perjury. Now President Trump has fired FBI Director James Comey, who had been leading the investigation into the Trump campaign's ties to Russia.
The American people need answers about Russian involvement in the 2016 presidential campaign.
That's why the ACLU is calling on the Justice Department, the agency in charge of this investigation, to appoint a special prosecutor.
Following revelations that Attorney General Jeff Sessions didn't tell the whole truth at his confirmation hearing about his contact with Russian officials during the 2016 presidential campaign, Sessions recused himself from leading the investigation into Russian involvement – passing that responsibility to his deputy attorney general.
But recusal isn't enough – only an independent special prosecutor can ensure a full investigation free of partisan politics and conflicts of interest, the kind of investigation the American people deserve. There is now robust bipartisan support for a special prosecutor - this is our opportunity to get the answers we need for a functioning democracy.
Add your name now to demand the appointment of a special prosecutor – because no one is above the law in America, no matter their political connections.