It's Time to Ban the Box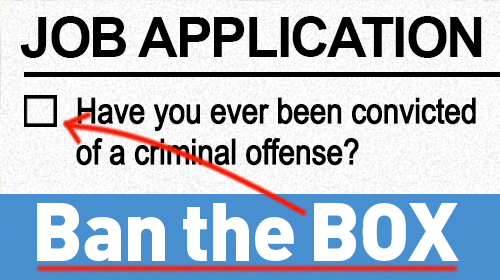 Update 4/22/16: President Obama banned the box for federal employees in November 2015. This is a huge step for integrating Americans back into our workforce! But his executive action does not address the millions who work for federal contractors – that's a quarter of the U.S. workforce. Sign to keep up the pressure. We can't celebrate a victory until the criminal record checkbox is removed from federal contractor job applications.
---
Most job applications have a checkbox asking applicants to disclose if they have a criminal record. Checking the box slashes the likelihood of a callback or offer by nearly 50 percent. This is devastating for people who are trying to rebuild their lives and provide for their families.
Banning the box gives all job applicants a fair chance at opportunity and a fresh start.
President Obama supports ban the box initiatives and he can make a huge impact with businesses that contract with the federal government.
Join the National Employment Law Project, the Safe Return Project, and the ACLU in calling on the President to issue an Executive Order to remove the criminal record checkbox from federal contractor job applications.
According to the Department of Justice, more than 650,000 people are released from prison every year – and one key element the DOJ identified to reducing recidivism rates is helping them find a job.
There's no better place than the roughly 25% of U.S. workers who are employed by federal contractors or subcontractors. That's more than 40 million people.
President Obama has proven he's committed to reforming our criminal justice system. Sign to make sure he acts to ban the box for a quarter of the workforce.