Submit a Public Comment: Do NOT Allow ICE to Destroy Records of Sexual Abuse and Death of People in Custody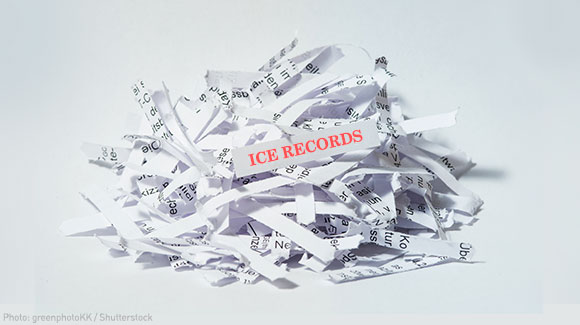 Update(9/15/2017): Delivered! Thanks to your help, we delivered over 23,000 signatures to NARA by the deadline. We will keep fighting to make sure these records are not destroyed and that ICE is held accountable for the possible injustices committed against the people they have detained.
---
The National Archives and Records Administration (NARA) has given preliminary permission for Immigration and Customs Enforcement (ICE) to begin routinely destroying 11 types of records, including those related to sexual assault by guards, substandard medical care, overuse of solitary confinement, threats and physical assault by custody staff, and even death while in custody. But the proposal must go through public comment first.
We have until September 15 to send public comments to the National Archives and Records Administration demanding they retract permission for ICE to destroy these records.
Many of the records that ICE proposes for destruction offer proof of the mistreatment endured by people in detention, including sexual abuse, excessive use of solitary confinement, and even death in custody. These documents are necessary for the public to understand and evaluate our immigration enforcement system both now and in the future – a system that is notorious for inhumane and unconstitutional conditions affecting hundreds of thousands of people every year.
We know that President Trump intends to increase the number of people in immigration detention facilities. These facilities have limited oversight and a long history of disturbing complaints of abuse that have gone unaddressed. Destroying records effectively grants ICE impunity for its abuses, makes it harder for the public to hold ICE accountable in the future, and erases important parts of the historical record.
Here are some facts you may want to include in your comments:
According to data obtained through a Freedom of Information Act (FOIA) request, the DHS Office of the Inspector General received 1,016 reports of sexual abuse filed by people in detention between May 2014 and July 2016, meaning that the OIG received on average more than one complaint of sexual abuse from people in detention per day during this time period.
ICE agents have largely escaped accountability for sexual abuse. The Office of the Inspector General investigated just 24, or 2.4% of these complaints.
This number of sexual assault complaints is even more disturbing when you consider that these types of complaints are routinely underreported due to fear of retaliation.
Via FOIA requests, the watchdog group Community Initiatives for Visiting Immigrants in Confinement (CIVIC) determined that more complaints were submitted against ICE than any other Department of Homeland Security agency.
 170 people have died in immigration detention since 2003, including 10 deaths since October 2016. ICE's internal investigations of these deaths – many of which identify substandard medical care and violations of ICE policy – are slated to be destroyed.
Submit your public comment now and make your voice heard.
[Note: When you submit a public comment, your comment and the information you submit may be visible as part of the public record.]