Your Bail Story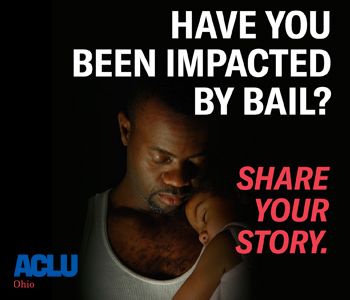 In Ohio, thousands of people are held in city and county jails awaiting trial. None of them have been convicted of a crime, yet many find themselves unable to make bail and their lives are upended waiting for freedom. Ohio's bail system criminalizes low income individuals, fuels an exploitative commercial bail bond industry, and does little to keep the community safe.
The American Civil Liberties Union of Ohio is campaigning for legislative reforms to Ohio's pretrial criminal justice system that would reduce the number of persons held in jail because they cannot afford bail. As part of this process we would like to hear from those impacted by the bail system either because they were 1) kept in jail and could not afford their release, or 2) know a person close to them forced to experience the pain and uncertainty of waiting to come home.
Remember, your stories hold power. By completing the following survey you take an active role in to exposing this discriminatory and unjust system.
Please answer the following questions as fully as possible. We will not share any of your information without your consent.
This is not an offer of legal assistance, just a request for information. We will contact you only if we need to follow up with you.
Although we keep our files confidential, submitting cases via email is not a secure means of transmission. If you do not wish to submit your form via email, you may fill out the form, print it and mail it to the address below:
ACLU of Ohio
c/o Policy Department
4506 Chester Ave.
Cleveland, OH 44103