2018 ACLU of CA Conference & Lobby Day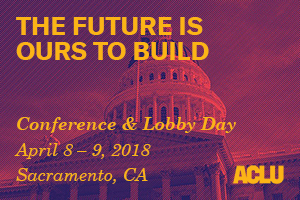 Whether working for or against bills, we expect to have our hands full in the 2018 legislative session. This year's hot topics are: bail reform, school suspensions and education equity, regulating local law enforcement's acquisition of surveillance technology, and access to police misconduct and use of force records. Join us.

On Sunday, learn how to build grassroots political power, then lobby your state senator and assemblymember on Monday — urging them to pass critical legislation that would protect and expand the rights of all Californians.

Planning on going to Conference & Lobby Day? Along with your ticket you can also sponsor other attendees.

If you're coming in a group, great! Each person must register separately. Thanks!

Contact: For questions about the event, registration, travel grants, hotel arrangements, accessibility accommodations and info (materials, translation, on-site interpretation, and more), contact Steven Medeiros at smedeiros@aclunc.org or (415) 621-2493 x386.
Sunday, April 8, 2018 – Monday, April 9, 2018
Sunday workshops will include:
» Demystifying the Money Bail System
» Meet Your DA Campaign!
» Unlock the Vote: Voting Rights in the Time of Mass Incarceration
» California Values: Working to Disentangle ICE and Local Law Enforcement in Your Community
» Fighting Transphobia and Building Coalition Power
» Voter Outreach for Community Power
» Solidarity or Savior Complex: Developing a Reflective Practice
» Difficult Conversations
» Marijuana. Know Your Rights
More info...